Recently, the PNP, under its chief General Jesus Verzosa, proposed a permanent total gun ban. Chief Verzosa seems to conveniently ignore the fact that, to date, there have been no cases anywhere in the world where a ban has effectively prevented criminals from obtaining weapons.
To see how the Philippines might look if it continues on this course, we need only look to Jamaica. The former Spanish possession changed hands with the British to become a colony for around 300 years. Jamaica attained full independence in the 1960s, after which it experienced strong economic growth. Its prosperity didn't last long, however, as in the 1970s it suffered from growing inequality and fell into economic deterioration.
In 1974, the government enacted a total ban on private firearms ownership. House-to-house searches, secret trials as well as warrantless searches and seizures followed. After an initial dip in the armed crime rate, it went on to become known as a 'murder capital of the world'. (The graph below shows Jamaica's increase in murder rate between 1970-2000.)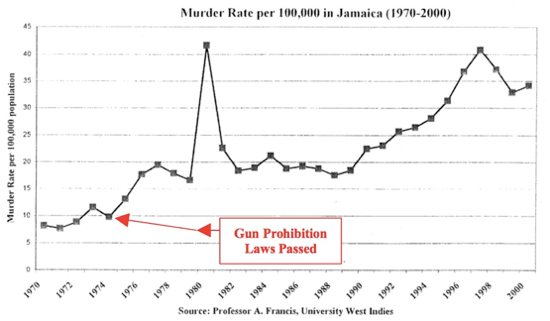 Jamaica's murder rate, 1970-2000 (source)
Jamaica is now one of the most violent societies on earth. It suffers from a corrupt Jamaica Constabulary Force who are accused of extra-judicial executions. Gang violence is widespread and according to Mark Shields, the former deputy commissioner of police, criminals have access to an enormous number of illegal firearms.
As in the Philippines, Jamaica also has a culture of political violence. Politicians buy votes and exchange weapons and ammunition for gang loyalty. To protect themselves, politicians and the wealthy hire armed bodyguards or use their influence to obtain guns. As usual, the poor and the powerless are left vulnerable.
With such similar societies, can we reasonably expect to avoid Jamaica's fate? A permanent total gun ban will be a disaster for law and order in the Philippines.